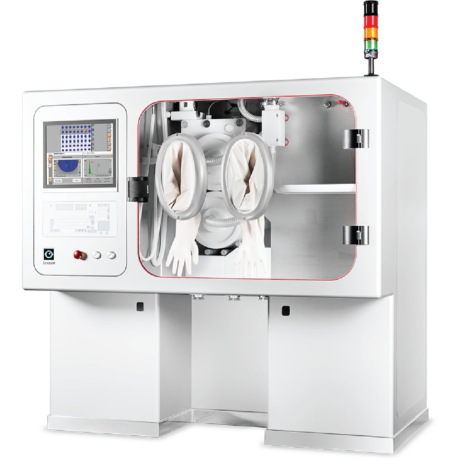 Spine Hypo
Automatic Visual Inspection and Sorting of Highly Potent Tablets & Capsules
Contained automatic visual inspection and sorting of highly potent products
Minimization of contaminated parts
Contained feeding and discharging systems
Glove ports and RTP for safe access
Dry cleaning with aspiration
Wet cleaning for powder binding and wash down
Ergonomic and tool-free design with IP54 housing
Same inspection performance as standard Sensum SPINE machine
Advantages

Inspection of tablets, capsules & softgels
Same inspection performance as for standard Sensum SPINE machine.
Separation of process area with barrier
Separation is a primary containment protection, achieved by inflatable seals, gaskets and silicone sealing.
Negative pressure in process area
Negative pressure is a secondary containment protection, preventing contamination if primary containment protection is broken.

Inlet and outlet air filtering
Inlet air is filtered with protection filter that prevents potential backflow of contaminated air. Outlet air is filtered with two filters, the first filtering contaminated air, while the second protecting from potential damage of the first filter.

Feeding and discharging in containment
Contained docking station for feeding and discharging with IBCs containers and continuous liners.

Safe access with glove ports and RTP
Glove ports and RTP are used for safe access and interaction without breaking the containment.

Dry and wet cleaning in containment
Dry cleaning with aspiration enables removal of excessive surface powder. Wet cleaning enables airborne powder binding and wash down.
---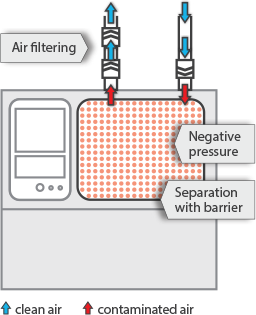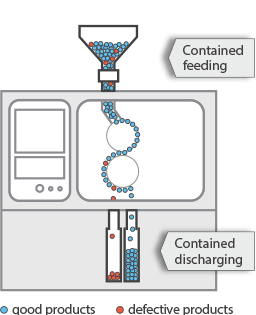 Technical data

Application
Tablets, capsules and softgels

Inspection speed
Up to 360.000 products/hour

Inspection performance
Same as for standard Sensum SPINE machine

Media connnectins
Electrical connection, compressed air, cleaning water

Dimensions (L×W×H)
~ 2000 × 1350 × 2200 mm


IP protection of housing
IP 54
---