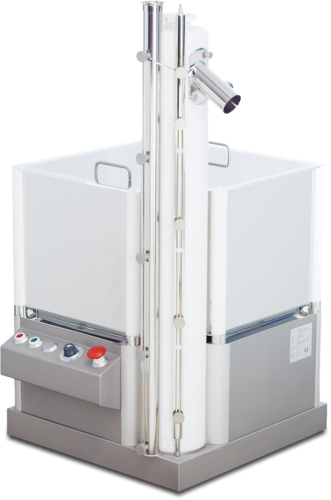 Helix
Lifting, Dedusting and Polishing of Tablets, Capsules and Softgels
Machine for vertical lifting, dedusting and polishing of tablets, capsules and softgels of various shapes and sizes. The products are conveyed in gentle manner to different heights at adjustable speed,controlled via user friendly graphical interface. Compact, mobile and modular design makes HELIX CORE ready to use in a wide variety of production and packaging processes (e.g. tablet pressing or coating, capsule flling or weighting, metal checking, blistering, bottle flling) with simple cleaning and low maintenance.
Double function: lifting & dedusting
Product independent: tablets, capsules & softgels
Gentle product manipulation
Compact and mobile
Input container of arbitrary size
Modular construction
Simple cleaning and lifting to arbitrary height
Stand alone or integrated with the SPINE inspection machine
LIFTING, DEDUSTING & POLISHING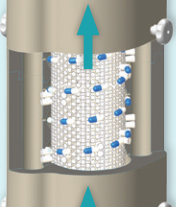 Polishing
The rotatonal spiral brush gently polishes the product and even further removes the excess dust.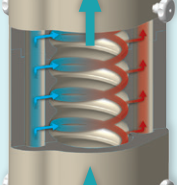 Dedusting
The aspiration of the dust is ensured by constant air supply and exhaust suction along the product movement.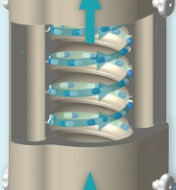 Lifting
The product is conveyed vertically along spiral groove.
Applications
The HELIX is a general-purpose lifting and dedusting machine. HELIX is compact, mobile and modular so that it can be easily transferred and adapted to various production stages:
tablet pressing,
capsule filling,
tablet coating,
capsule weighting,
quality inspection,
blister filling,
bottle filling,
and other …
wherever and whenever there is a need for gentle and efficient lifting and/or dust removing from tablets or capsules.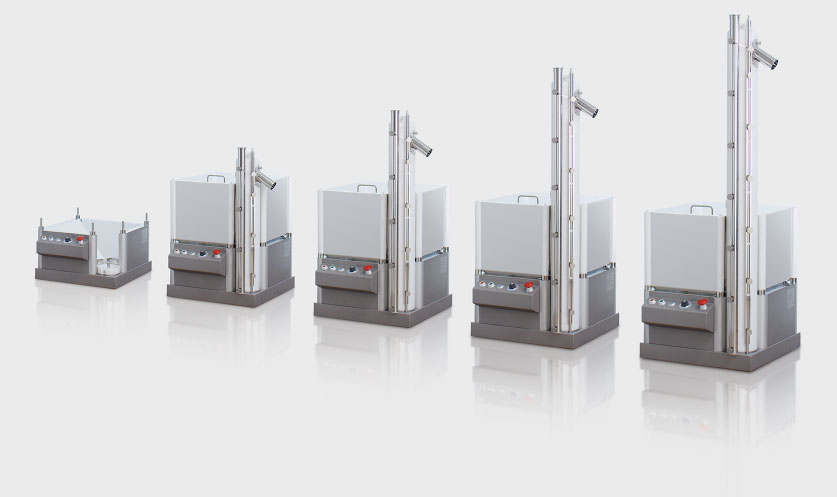 ADVANTAGES
Maximal flexibility
One machine for tablets, capsules and softgels
Conveys to different heights at adjustable speed
No product specific format parts

User friendly device
Autonomous operation
Compact and mobile
User friendly graphical interface
Ergonomic tool-free design
Simple cleaning and low maintenance

Inline operation
inline peripherals: metal detectors, empty capsule detectors, diverter switches, etc
integration with Sensum Spine inspection machine
contained automatic lifting, dedusting and polishing of highly potent products
Technical data

Application
Tablets, capsules and softgels

Electrical connection
230V 1/N/PE 2A, 10 A, 50/60 Hz
Compressed air
4-6 bar, 60Nm3/h
Climates (exhaust air)
200 Nm3/h min, 100-200 mBar

Dimensions (LxWxH)
700 x 700 x 3100 mm (11 segments)
Noise level
>70 dB


Construction
CE, GMP, FDA acceptable materials
---